The Theatre Artist Fund of Greater Richmond (TAFGR) helps those in the Richmond theatre community who fall on the hardest of times, whether due to illness, injury or extenuating circumstances.
When you help by providing emergency financial assistance, you will receive an RVA THEATRE sticker that proudly indicates your support of our theatre community.
All proceeds donated directly to the Theatre Artist Fund of Greater Richmond for use by you or a beloved colleague in the future.
ANY theatre supporter – actor, designer, volunteer, board member, student, patron, parent – can proudly display the 'RVA Theatre' logo.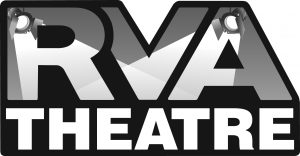 Great as opening night gifts, BOD thank yous, Acts of Faith, student classes.
Make checks payable to Donna Pendarvis and mail to 2602 The Plaza, RVA 23222.
All proceeds benefit TAFGR.
Guidelines for applications: Http://rvatheatrealliance.org/uploads/3/5/4/1/35411210/theatre_artist_fund_operating_guidelines.pdf