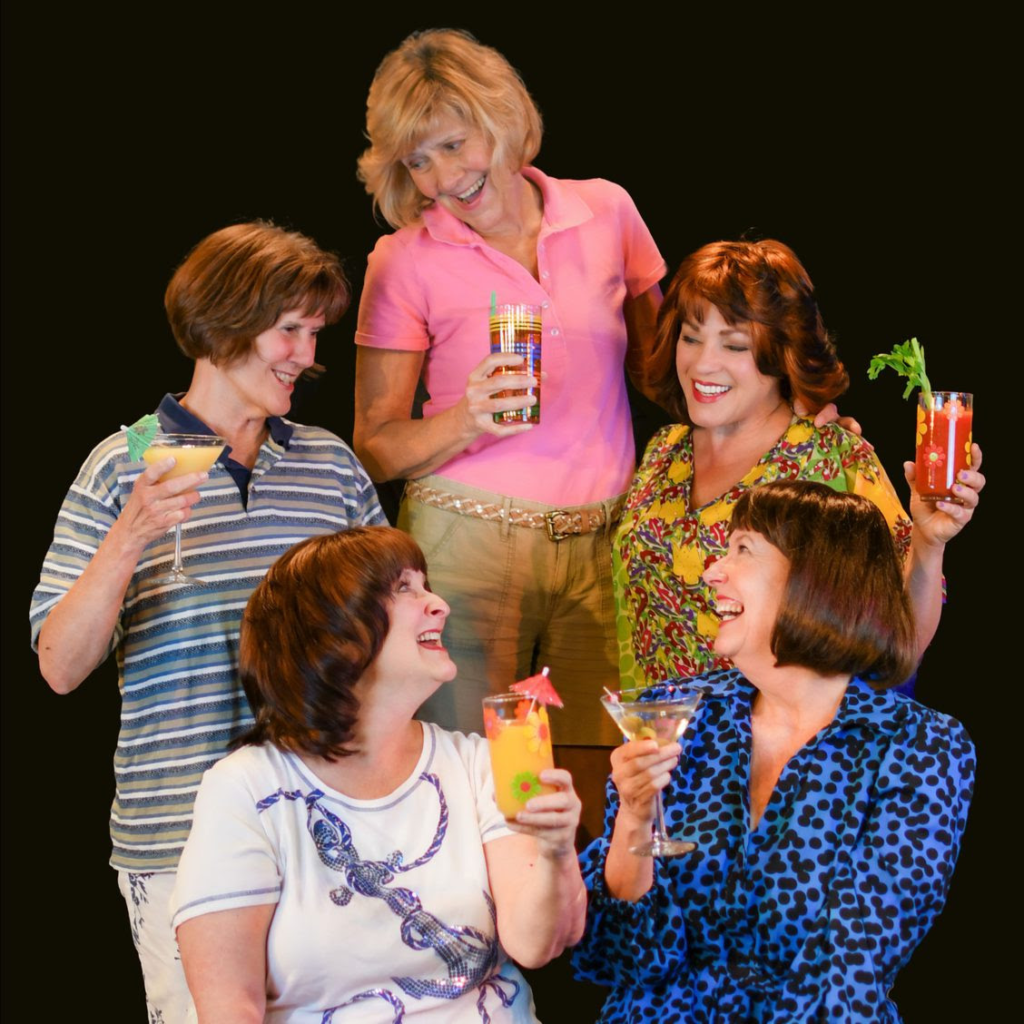 Run Information
Pay-What-You-Can: May 25th
Preview: May 26th
Opening Night: May 27th
Closing Night: July 1st
Performances: Select Fridays, Saturdays, and Thursdays at 8:00 pm; Select Wednesday, Saturday, and Sunday matinees at 2:30 PM
Production Information
"The Sweet Delilah Swim Club" by Jessie Jones, Nicholas Hope, and Jamie Wooten
Runtime: 2 hours and 10 minutes including a 15 minute intermission
Summary: Five Southern women, whose friendships began years ago on their college swim team, set aside a weekend every August to recharge. Free from husbands, kids, and jobs, they meet at the same beach cottage, the "Sweet Delilah" on the Outer Banks to catch up, laugh, and meddle in each other's lives.
Directors/Designers
Directed by Tom Width
Lighting Design by Joe Doran
Costume Design by Maura Lynch Cravey
Scenic Design by Tom Width
Technical Direction by Liz Allmon
Cast
Sheree Hollinger is played by Joy Williams
Dinah Grayson is played by Kathy Parker
Lexie Richards is played by Donna Marie Miller
Jeri Neal McFeeley is played by Jacqueline Jones
Vernadette Simms is played by Robin Arthur
Ticket Information
Reserved tickets: $49
One Hour Rush Tickets: $25
Special discounts: Seniors, Military, First Responders, Students
Dining Information
Dining begins two hours before the start of the show.

Matinee dining: 12:30 PM
Evening dining: 6:00 PM

Dining Tickets: $30 (including gratuity and tax)Appetizer: Yeast dinner rolls with either an Orzo soup or a house salad with house made dressings
Main course: Barbecue chicken with chimichurri sauce, pork tenderloin with sweet chili pineapple sauce, coleslaw, roasted baby corn and broccoli, chipotle mayo roasted potatoes
Dessert: Orange creamsicle mousse with vanilla whipped cream or smores ice cream sandwich
Featured Artist Information
Transiție By Abraham SprinkleAcrylics and Oil on Canvas
Patrons can talk to Swift Creek Mill Theatre's Box Office about purchasing pieces that are on sale.Location: Historic Mill Room
Dates: May 15th – July 9th
Fee: There is no fee to view the artwork for dining and theatre patrons
Transiție (from Romanian transition), is a collection of works by Abraham Sprinkle, created between 2019 and 2023. The work chronicles the artist's exploration of a new medium, on a new territory in a pre/post-pandemic society, having just moved from New York, settled in, and found new inspiration in the Chesapeake Bay area. He outlines transition as an inspirational period in our paths, a state of mind in which one brings everything he/she learned to the table, reflect, rearrange, and applies it to the future. "It is a necessary time to recharge. Like in airports, where most of us spend time in between point A and B, life continues and might take an exciting turn."  The works are organized in sets/series (Blue Transition, Garden Transition, Turkish Transition, Nomadic Transition) and correspond to dates they were conceived. 
About Swift Creek Mill Theatre
Historic Swift Creek Mill Theatre is a not-for-profit 501(c)3 organization offering mainstage and youth productions, educational programs, dining, cabarets, wine dinners, and event and catering services. Housed in a former grist mill, the theatre is listed as one of the oldest landmarks in the nation (circa 1663).Season tickets and FlexPasses are available. For tickets and more information about the Mill's 2021-22 season of shows, cabarets, and wine dinners, visit www.swiftcreekmill.com, Email info@swiftcreekmill.com, or call 804-748-5203 Tues. – Friday between 10 a.m. and 4 p.m.