2023-2024 Season Announcement
The announcement you've been waiting for is here…. next season's performances. We promise a fun filled, toe tapping, captivating season with shows everyone is bound to love.
Get Season Tickets HERE!

tick, tick… BOOM!
09/09/2023 – 09/30/2023
Before he wrote the Tony and Pulitzer Prize-winning musical Rent, Jonathan Larson wrote this autobiographical show about his pre-Rent life as an aspiring composer who is questioning his life choices on the eve of his 30th birthday.  He died of a brain aneurysm before his landmark musical's opening night, but Rent lives on as his worldwide legacy.  tick, tick…Boom! helps us to understand how he arrived at his grand creation.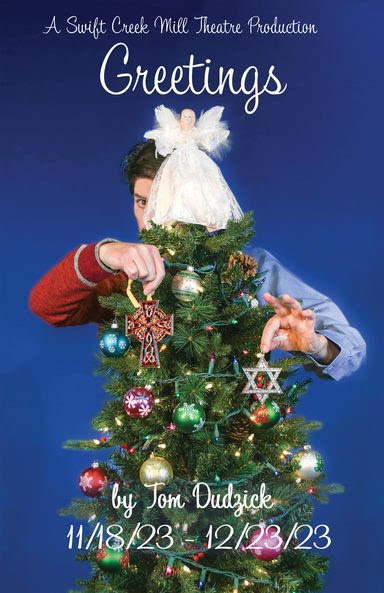 Greetings
11/18/23 – 12/23/23
Miracles do happen in this wonderfully touching comedy by the author of last season's hit, Miracle on South Division Street.  The play centers around Mickey, the intellectually disabled younger son in the Gorski family, who undergoes a cathartic transformation that helps to heal his dysfunctional family just in time for Christmas!

BKLYN The Musical
01/27/24 – 02/17/24
A troupe of homeless street performers (The City Weeds) sets up their stage under the Brooklyn Bridge and uses whatever they can find to create their sets and costumes.  Soaring vocals and a gorgeous pop/rhythm & blues score propel this story of a young Parisian girl's search for the father she never knew.
Presented by Roslyn Farm Corporation.

Altar Boyz
03/23/24 – 04/20/24
A foot-stomping, rafter-raising musical comedy about a fictitious Christian boy band on the last night of their national "Raise the Praise" tour. The Boyz are five all-singing, all-dancing heartthrobs from Ohio: Matthew, Mark, Luke, Juan and Abraham.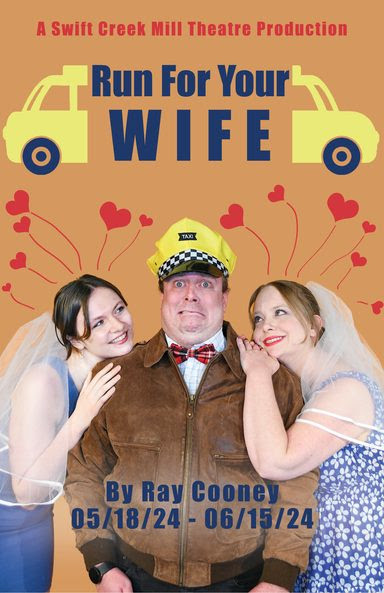 Run For Your Wife
05/18/24 – 06/15/24
Ray Cooney is the premier farceur of his generation, and this is the play that put him on the map!  Two storylines about a bigamous taxi driver in London are played-out in two separate locations, but are performed simultaneously in the same space — sounds impossible to do, but it's delightfully hilarious to watch!
Tickets
Tickets for individual showtimes will be posted on our website shortly. In the meantime you can get Season Tickets or Flex Passes that allow you to mix and match with Cabaret Nights! The early bird gets the savings so check out our offers now.
Dining
Before every show we will continue having our served dining option! The pre-fixed menu for each show will be announced closer to opening night but we assure you it will be delicious. Dining begins two hours before the show and the menu is specifically curated to match the set of the performance. Be sure to add the dining package to your season tickets for the ultimate Swift Creek Mill Theatre experience.
Get Season Tickets Now