The New Theatre at Firehouse is thrilled to announce Firehouse's 30th Anniversary season, the start of its 2023-24 membership sales, and the launch of the COMMEMORATE/ELEVATE/IGNITE campaign.
As Firehouse and The New Theatre complete their successful merger, the 2023-24 Main Stage season and all new play activity will be produced under the banner, THE NEW THEATRE at FIREHOUSE. Firehouse Fringe will continue as a platform for RVA's independent artists. The Firehouse Resident Company model, which provides producing infrastructure to nomadic producers, will expand to now include four inspiring RVA arts organizations.
The New Theatre at Firehouse Main Stage season includes:

The Virginia premiere of BERTA, BERTA written by Angelica Chéri
Running September 27th through October 15th, 2023
Presented in collaboration with The Conciliation Project
Directed by Dr. Tawnya Pettiford-Wates
Starring Katrinah Carol Lewis & Jerold E. Solomon
After committing an unforgivable crime, Leroy is granted one final wish: a chance to make amends with his long-lost lover Berta. Their reunion swells from a quarrelsome conjuring of the past to an impassioned plot to escape their impending fate. The play is a fictional origin story of the prison chain gang song 'Berta, Berta' which originated on the Parchman Farm, Mississippi State Penitentiary.



The World Premiere of MEMORIES OF OVERDEVELOPMENT written by Caridad Svich
Running February 7th through February 25th, 2024
Directed by Nathaniel Shaw
Some plays are a quiet revolution about loud things. Some plays are about the stories we carry in our bones. Inspired by true stories, Memories of Overdevelopment is a documentary sharing what people remember about dictatorships where they grew up, how they survived, and why they left. 


The World Premiere of ROMAN À CLEF written by Chandler Hubbard
Running May 8th through May 26th, 2024
Directed by Sharon Ott
with Dramaturgy by Naysan Mojgani
All plays are about family. Even when they're not. Especially when they're not. From the mind of innovative local auteur Jack Coburn comes Apple, Tree; Far From, Not, a new work about family, faith, and fear. Kingston and Queenie live a storybook life of blissful domesticity with their four children, McKnight, Bishop, Rookie and Spawn. A life upended when family secrets rip mother from children, husband from wife. A topsy-turvy exploration of what family means and doesn't mean. 





THE CAROL PIERSOL LEGACY PROJECT
Running July 3rd through July 21st, 2024
As part of our year long celebration of Firehouse founder Carol Piersol, we will honor her legacy with a new production of a landmark Firehouse project. Join us for the unveiling of the Carol Piersol Stage later this summer, and be the first to hear about this Pulitzer Prize-winning addition.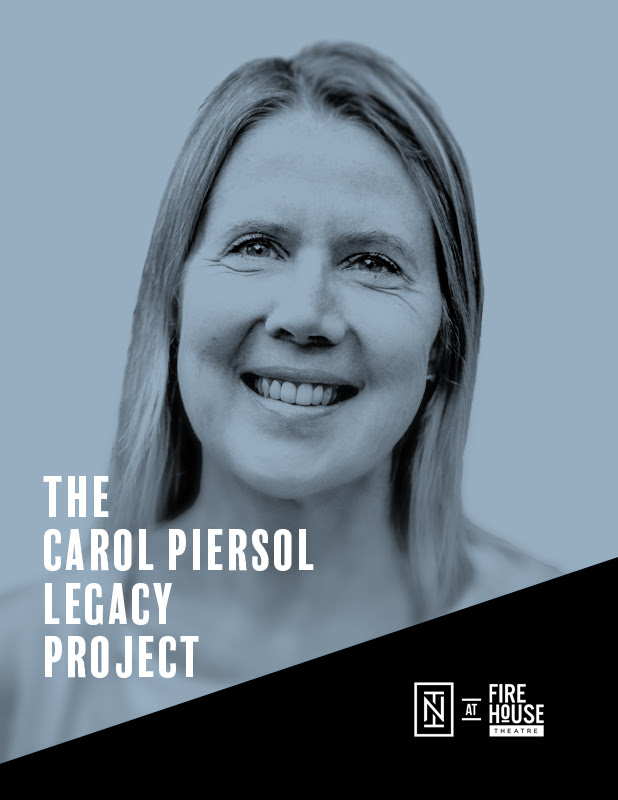 In addition to completing development on ROMAN À CLEF and MEMORIES OF OVERDEVELOPMENT for their premiere productions, and continuing Firehouse 1st Draft and Bagels and Pop-Up Premieres, The New Theatre at Firehouse New Plays will commission two new projects.
The John Mitchell Jr. Project
In partnership with The Richmond Planet Foundation, alongside the descendants of John Mitchell Jr., TNT @ FT will commission and begin development of a new play capturing the birth of the Richmond Planet newspaper and the life and times of its "fighting editor", John Mitchel Jr.

The Man Who Eats Books
Following a successful First Draft and Bagels presentation and this season's Pop-Up Premiere, TNT @ FT will commission a new play based on the life and writings of Julie Portman. The Man Who Eats Books follows Julie to India, where her curiosity for Kathakali theatre leads her into a love affair with both the artform and her passionate guru.


Entering our 30th Anniversary season, Firehouse will expand its residency model to include four vital RVA arts organizations. In November 2023, 5th Wall Theatre, also founded by Carol Piersol, will the first resident company in the 2023-24 season. This project, running in November 2023, will be announced at the unveiling of the Carol Piersol Stage later this summer. Yes, And! Theatrical will return to Firehouse following their successful production of THE LIGHT, with DR. RIDES AMERICAN BEACH HOUSE by Liza Birkenmeier running March 7-23, 2024. Firehouse is proud to produce RVA's most intimate experience in concert dance featuring both K DANCE and STARR FOSTER DANCE. Both companies will have two residencies during the 2023-24 season. K DANCE will produce SHORTS, contemporary dance interwoven with short plays and monologues, December 8-10, 2023, and return with their YES! DANCE FESTIVAL, featuring artists from Dance Magazine's "25 to watch list", April 5-6, 2024. STARR FOSTER will premiere the much anticipated SWALLOW alongside fan favorite [YOUR NAME HERE] November 30-December 3, 2023, and return in the spring with PORTRAITS, a tribute to four women who pioneered the arts in Richmond, running April 11-14, 2024.
Firehouse Fringe expands upon its eclectic offerings of music, magic, comedy, burlesque, cabaret and more! Firehouse favorites like Burlesque Right Meow, Firehouse Radio Players, Happy Hour Poetry and Night of a Thousands Laughs are joined by the new Firehouse Sings cabaret series, Virginia Theatre Machine's family-friendly productions, and many others in this beloved series that makes Firehouse the place to go for diverse, live entertainment experiences.
Memberships are now on sale. Visit www.firehousetheatre.org to secure your membership and select your preferred seats before single tickets go on sale July 15th.
Firehouse also invites you to join the COMMEMORATE/ELEVATE/IGNITE campaign.
COMMEMORATE the bold vision and legacy of our founder, Carol Piersol.
ELEVATE our productions with state-of-the-art lighting, sound, and projection technology.
IGNITE organizational excellence by investing in art and artist
In celebration of her enduring legacy, The Firehouse Theatre is honored to name its stage THE CAROL PIERSOL STAGE. Since its inception, the Firehouse has carried the torch for new plays and adventurous, contemporary theatre. COMMEMORATING Carol's vision and excellence will ensure that future Firehouse artists and audiences will know the name of the bold, energetic leader who lit the flame thirty years ago.

Keeping pace with Carol's foundational ambition requires that we ELEVATE her beloved playhouse with the technology necessary for post-2020 theatrical production. The NEW American playwright is writing in a digital world that comes with increasingly sophisticated demands. The need for pinpoint lighting, crystal clear audio, and flexible video projection is more important than ever. For the Firehouse to continue as a torchbearer for new plays and innovative performance, our venue must be equipped with sophisticated, modern technology.

IGNITING organizational growth is also critical to Firehouse's immediate and long-term success. Following the merger with The New Theatre, the Firehouse has launched a multi-year effort to significantly expand individual contributions in support of expanding staff, and making a down payment on long-term investments in artist compensation and production quality.

To make a donation to the COMMEMORATE/ELEVATE/IGNITE campaign, please visit www.firehousetheatre.org, or write to info@firehousetheatre.org for more information.